EOSC-Nordic project to hold first in-person event since the pandemic
From the 29th to the 30th of September, the EOSC-Nordic project held an in-person open General Assembly in Copenhagen. Something we all used to take for granted, but have learned to make do without the last year and a half.
There was much reunion joy when participants from the EOSC-Nordic project finally met again last week in Copenhagen.
The COVID-19 pandemic has obviously curbed the number of in-person meetings and events, especially in cross-border projects with participation from different countries. And to our knowledge the event in Copenhagen was one of the first, if not the first, event in a European project with participation from several different countries to take place since the pandemic.
Therefore, it was also a joyous event when we all met in Copenhagen.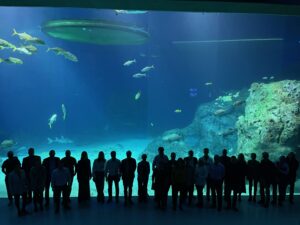 "It felt like such a privilege to finally be able to meet up in person and discuss ambitions and next steps for EOSC-Nordic," says Project Manager Lene Krøl Andersen from DeiC.
On day one, we had an internal work package workshop with a focus on the previous project review. There were great discussions on cross-border collaborations and cross-border business models, discussions about funding, mandate, grants and practical versus political challenges.
We ended the day with a canal tour that unfortunately took place in pouring rain, but such is the unpredictable Danish weather, and a lovely dinner with a view of the Copenhagen Opera House.
On day two, we spent the day at the National Aquarium Denmark. We heard an interesting keynote speak from EOSC Association Director Wilhelm Widmark from Stockholm University and learned about the project progress and future steps from all the WP's.
"The EOSC-Nordic team presented a substantial and impressive midterm status, as well as future progress of the project, which was also honored by both the EOSC Association Director Wilhelm Widmark and Project Officer from the European Commission Christian Cuciniello," says Lene Krøl Andersen.
In between talks, we got to explore the beautiful aquarium. More than 80 participants attended the second EOSC-Nordic open General Assembly, with half being in person and half attending virtually.
Browse all the presentations labelled "GA2021" at the Knowledge Hub via this link.
The recordings are available on our YouTube channel, part 1 and part 2.